Helier Scientific can offer a customer centered analysis and advice to meet your needs. Please contact us with details of your requirements.
Contact us to discuss our pricing options and possible academic discounts.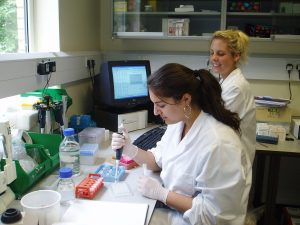 Renal Biomarkers
RBP; NAG; Creatinine; Albumin; Fibronectin; KIM 1; NGAL
Sensitive biomarkers play an essential role in monitoring early acute kidney injury caused by nephrotoxic drugs, surgical intervention, environmental and industrial toxins.   They can also be used to monitor progression to chronic kidney disease (CKD).
230001      Retinol Binding Protein (RBP)
an optimal biomarker for tubular proteinuria.
a sensitive indicator of tubule damage due to environmental toxins, such as cadmium, and nephrotic drugs.
a constant feature of Fanconi's syndrome, low levels indicate a carrier status of this hereditary disorder;
a more sensitive marker for the assessment of Multiple Myeloma with renal impairment than conventional indicators.
a good marker of the development of the complications of diabetic nephropathy.
it is more stable and sensitive than β-2-microglobulin
We offer a customer cantered analysis service to meet your needs.
Refences 1. Sensitive assays for urinary Retinol Binding Protein and β-2-Glycoprotein, based on commercially available standards. Lapsley M et al (1998) Ann. Clin. Biochem., 35:115-119.      2. Norden AGW et al (2000) Tubular proteinuria defined by a study of Dent's (CLCN5 mutation) and other tubular diseases. Kid Int 57, 240-9.      3. Norden AG et al (2001) Glomerular protein sieving and implications for renal failure in Fanconi syndrome. Kid Int. 60(5):1885-1892.      4. KA. Burling KA (2012) Analysis of molecular forms of urine Retinol-Binding Protein in Fanconi Syndrome and design of an accurate immunoassay. Clin Chim Acta 413:483–489.
230002      N-Acetyl-β-D-glucosaminidase (NAG)
a sensitive and reliable indicator of the presence of renal disease and tubular damage.
a sensitive indicator of drug nephrotoxicity.
found in high levels in the urine during active disease or a sustained toxic insult. The activity will fall with recovery or the removal of the toxin.
recent studies have indicated that it is an excellent prognostic in diabetic patients
The assay of NAG is able to identify the 30% of diabetic patients which do not exhibit microalbuminuria
References. 1. Price RG (1992) Measurement of N-Acetyl-β-D-glucosaminidase and its isoenzymes in urine methods and clinical applications. Eur J Clin Chem Clin Biochem. 3010:693-705. 2.  Price RG (1992) The role of NAG (N-Acetyl-β-D-glucosaminidase) in the diagnosis of kidney disease in the monitoring of nephrotoxicity. Clin Nephrol. 38 suppl. S14-19.
230003      Creatinine
a breakdown product of creatine.
is removed from the body entirely by the kidneys.
is used as a reference substance for expressing excretion rate of various urinary metabolites.
the rate of excretion is proportional to body mass so its measurement can be used to standardise the rate of excretion of biomarkers in random urine samples avoiding the measurement of flow rate
Reference: Jackson S (1966) Creatinine in urine as an index of urinary excretion rate. Health Physics. 12:
230004      Albumin
Can be used to diagnose early functional changes in the kidney.
An albumin/creatinine ratio can be used to determine the level of damage to the kidneys.
In addition to chronic kidney disease urinary albumin has been demonstrated to be a marker of cardiovascular morbidity and mortality.
Reference.  Miller G and Bruns D. (2009) Laboratory issues in measuring and reporting urine albumin. Nephrol Dial Transplant (2009) 24: 717–718.
230005      Fibronectin (FN)
is a matrix protein that is expressed throughout the body
It is one of the major matrix proteins in the kidney.
The accumulation of FN fragments in inflamed glomeruli may contribute to the progression of glomerular
Urinary fibronectin levels are increased in patients with diabetic nephropathy and glomerular disease.
Reference.  Idasiak-Piechocka I et al. (2010) Elevated Urinary Fibronectin Excretion Predicts Poor Outcome in Patients with Primary Chronic Glomerulonephritis. Nephron Clin Pract., 116:c47-c52.
230006      Kidney Injury Molecule-1 (KIM-1)
a novel biomarker for nephrotoxicity
an early and specific biomarker for tubular kidney injury.
Vaidya V et al (2010) Kidney injury molecule-1 outperforms traditional biomarkers of kidney injury in preclinical biomarker qualification studies Nature biotech. 28(5):478-485.
230007      Neutrophil gelatinase associated lipocalin (NGAL)
an indicator of acute kidney injury but also can be raised in infection.
Reference. Mishra J et al. (2005) Neutrophil gelatinase-associated lipocalin (NGAL) as a biomarker for acute renal injury after cardiac surgery. Lancet 365: 1231-1238.
Contact us
for more information or a quote on any of the above renal biomarkers.