1076     Diphencyprone, Diphenylcyclopropenone,  DPCP,  Highly purified >99.5%
Diphencyprone (DPCP) is used for the treatment of Alopaecia Areata, totalis, and universalis as well as for recalcitrant warts and some cases of metastatic melanoma.
Properties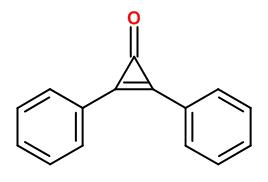 Diphencyprone (DPCP) [C15H10O] is a pale fawn coloured solid, which is guaranteed at the time of manufacture to be analytically pure and free of bromine containing impurities. Elemental and mass spectra data is available with each batch to confirm absence of higher molecular weight materials and the precursor α, α –dibromo dibenzyl ketone, DBBK. Diphencyprone is affected by light and must be stored in total darkness at 4-8 0C. If stored under these conditions the compound is stable for up to three years. Full analytical details are provided with each batch.
References: 1. Happle R (2002) Diphencyprone for the treatment of Alopaecia areata, more data and new aspects (Editorial) Arch. Dermatology, 138,1123.
2. Martindale (2009) The complete Drug Reference. Dermatological drugs and sunscreens, Diphencyprone (Sweetman S, Ed) London Pharmaceutical Press, 35th ed.
3. Lamb et al., (2016) Retrospective review of Diphencyprone in the treatment of Alopaecia areata. Clin. Exp. Dermatol. 41(4):352-8. Doi: 10.1111/ced.12776.12776.
Available in batches of 1g, 5g and 10g, for price and quotation for larger quantities please contact us.  Certificate of analysis and MSDS supplied.  Further details are available on request.
1077      GMP Diphencyprone – DPCP
Prepared in accordance with TSE, GMO and GMP regulations.  Please enquire for prices and further details.